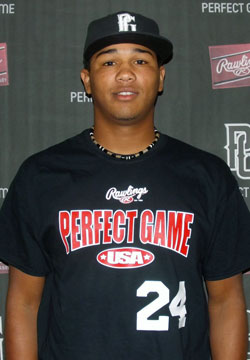 LHP, 19, 6'4", Faith Baptist Christian HS (Fl)
Perfect Game Profile
Sixto Torres is a 2014 LHP with a 6-5 205 lb. frame from Humacao, PR who attends International Baseball Academy. Very nice pitchers build, big and strong and loose with lots of projection. Full wind up with good tempo, long arm action with a mid to low 3/4's arm slot. Fastball topped at 88 mph with very good movement, nasty sink at times, will also cut fastball at times effectively.. Hard bite and tight spin on sweeping 2/8 curveball. Didn't throw change up but has in the past effectively. Threw strikes and dominated hitters with stuff and pitchability. High ceiling talent if he continues to improve. Good student.

~1/4/2014
Sixto Torres is a 2014 LHP with a 6-4 220 lb. frame from Jacksonville, FL. Big tall strong athletic build, long limbs. Full wind up, lots of arm and leg movement, deep arm action with pause in the back, high 3/4's arm slot, lots going on but has some deception. Fastball to 84 mph, has some projection with his velocity. 1/7 curveball with good shape at times, rolling break, some feel for straight change up. Mixes it up and tries to keep hitters off balance.

~6/13/2013
More from
Perfect Game
Each time Sixto Torres (2015, Jacksonville, Fla.) takes the mound at Perfect Game events he seems to add velocity to his fastball, and that was once again the case at the 18u WWBA National Championship. After working in the 87-89 mph range the day prior in an inning of work, Torres came back the following day even stronger, working 89-91 mph and topping at 92. He was clearing his front side better than his previous outing and getting on top, working low in the zone with a quick arm. Along with his fastball, Torres showed a feel for a sharp slider at 79 mph with 2-to-8 shape and a nice changeup with late, fading action at 79 mph.
From a
Perfect Game outing
2013 National Showcase video
Sixto,
Man or Myth?
From PrepBaseballReport
2/13/15 - Alabama St commit. 6-foot-4, 220 pound lefty with a big tall thick strong body and a loose whippy live arm. Very good arm speed with a big arm arc in back. Lands slightly across the body. Front side occasionally pulls off line and balls get away from him. Release point is a bit inconsistent, but it's early in the year. Some recoil on Fastball finish. Fastball had late life in the zone at 87-90 mph. Curveball has ¾ tilt with good depth. Flashes a plus ML pitch but very inconsistent. Good arm speed on the changeup at 80-82 mph. Flashes above avg ML pitch with good fade to it, but again, inconsistent. Could be a 2015 draft.

Big

tall body with thick strong hips. Has a long loose whippy arm at a H3/4 slot. FB has tilt at 90-93 mph

with occasional life. Cuts and runs.CV has 3/4 tilt at 76-77 mph. CHG is a work in progress at 81mph. LH power arm. Will be a 2015 draft.
John Sickels
Sixto Torres, LHP, Faith Baptist Christian School, Brandon, Florida:

Alabama State commit, mature body generates 90-94 heat, command and secondary pitches need polish but size

(6-4,

220) and strength could make him a mid-rotation arm if it all comes together. TT: Third round.
Video from 2014
Video from 2014
Amazin' Avenue
— Universe Today (@universetoday) June 10, 2015